i left work early yesterday
just so i could go grocery shopping
sad, right?
welcome to adulthood, rachel.
being away all weekend, i knew bill wouldn't do the grocery shopping, so i HAD to go so we'd at least have stuff to make a sandwich
and i figured i'd earned the afternoon off after traveling and working this weekend
so our house is now well stocked with foods
and i got to spend the evening like this
me and the girl, laying in bed reading
she tried out several sleeping positions
and yes
i had on christmas pjs.
i'm currently smack dab in the middle of a mystery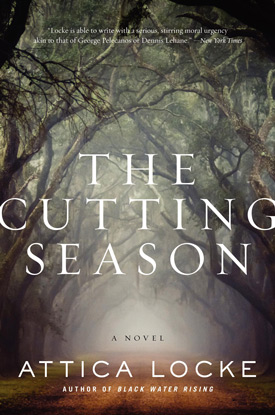 the cutting season by attica locke
i had purchased this book some time ago and never got passed 30 pages or so
but i started from the beginning and got a quarter of the way through reading on my flights last week
and i'm sucked in!
i could have stayed up hours last night to try and get further into the mystert
"Caren Gray is the general manager of Belle Vie, a sprawling antebellum plantation where the past and the present coexist uneasily. The estate's owners have turned the place into an eerie tourist attraction complete with full-dress reenactments and carefully restored slave quarters. Outside the gates, an ambitious corporation has been busy snapping up land from struggling families who have grown sugar cane for generations, replacing local employees with illegal laborers. Tensions mount when the body of a female migrant worker is found in a shallow grave on the edge of the property, her throat cut clean. The list of suspects is long, but when the cops zero in on a person of interest, Caren has a feeling they're chasing the wrong leads. Putting herself at risk, she unearths startling new facts about an old mystery—the long-ago disappearance of a former slave—that has unsettling ties to the modern-day crime. In pursuit of the truth about Belle Vie's history—and her own—Caren discovers secrets about both cases that an increasingly desperate killer will do anything to keep hidden.
Taut, hauntingly resonant, and beautifully written, The Cutting Season is at once a thoughtful meditation on how America reckons its past with its future and a high-octane page-turner that unfolds with tremendous skill and vision, demonstrating once again that Locke is "a writer wise beyond her years" (Los Angeles Times).
i just hope all of the suspense doesn't lead to a disappointing ending
what are you reading?
any good mysteries for the month of october?